This tutorial will cover how to sign out iPads, Chromebooks, and labs for Google Calendar. This technique for signing out "rooms" only works with our Google Apps for Education and is not found in general Gmail accounts.
Open Google Calendar
When you're in a new tab, click the 

(waffle) icon and the select 

Browse Interesting Calendars
On the left next to "Other calendars," click the down arrow then select Browse Interesting Calendars.

Resources (rooms) for wwcsd.net
After you're in Interesting Calendars, the default screen will be Holidays.
Click "More" to get to a new variety of options.
Click "Resources for wwcsd.net" to be taken to your school and cart information.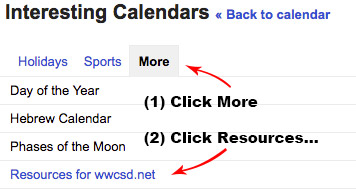 Resource Subscription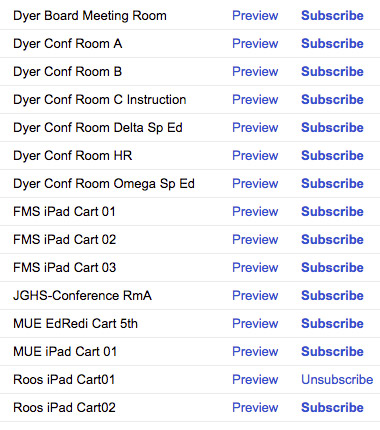 You'll want to subscribe to the resources we've set up so you can make a calendar event for them. This way they show up on your calendar when you're making an event.
Signing out for a time-slot is just as easy as making an event on your calendar… Great news right!?
Once you're subscribed to your calendar you will see it located in your Other Calendar section.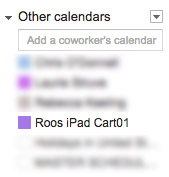 ---
You can change the color of your calendar of course, as well as toggle on/off from your main view.
Whoever signed out the calendar will show up when you see event details. Only the person who signed up for the event will be able to remove themselves from that time-slot.
Signing out Equipment
Step 1. Click the 

button in your calendar.
Step 2. Title your event. 

Step 3. To the right of your "Where" and "Calendar" options look for a Guests and Rooms, etc. option.
Step 4. Select Rooms, etc.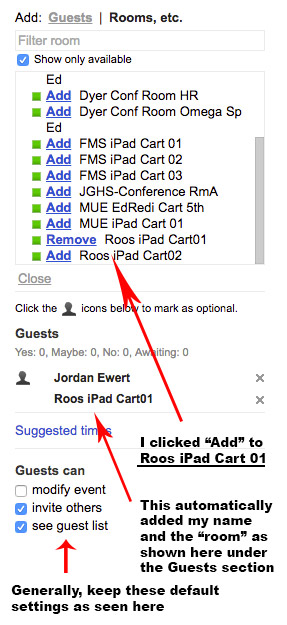 This screenshot captures what it looks like to actually check out a room. I know these aren't "rooms" but that's what Google calls em'
All you have to do once you've gotten to this step is Add the room (cart) you want, which we've named for you the cart # in your building.
Your name and room identification are automatically added to the event.
Generally, keep the settings that are default. It's more secure and won't allow anyone to remove your room during the time you've reserved.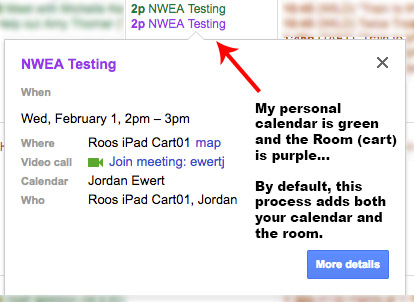 ---
Why does it book both me and the room (cart)? Because to anyone who isn't subscribed to your calendar, they will just see the room for that time… with whoever's name is attached to it.
That's it!