To merge your files you'll have to first add a Google APP called PDF Mergy.
PDF Mergy is Google App works inside of your Google browser and is accessed from either your apps or directly from your Google Drive. Before reading further make sure you're using the Google Chrome browser.
Why would you want to merge your documents? Well, this is probably most useful for printing off or archiving all your Google Classroom assignments.
Step 1: Download PDF Mergy
Click "Add to Chrome"
Accept any permissions it may need.
Step 2:
Step #2 can be done in one of two ways. I prefer method B
A) Open PDF Mergy and navigate for your files in Drive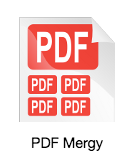 Look for this icon in your 

 and select this icon (or by visiting chrome://apps/)
---

You can open files right from Google Chrome (recommended) with this app.
Allow the app if you are asked to do so. You only have to do this the first time.
---

When locating your multiple files you can hold down SHIFT to select multiple documents (or CTRL) and the select Select.

Select Merge to merge everything together!
If you are having trouble with this method, try method B below.
B) Navigate to where your documents are located in Drive and merge from there
This method is probably easier, because you don't have to leave Google Drive to access the App.

Select multiple files, right-click, then select PDF Mergy as shown.

Everything will be converted to a PDF. From here you can Save PDF to Google Drive, or save it to your computer if you want to print the file, for example.
You will need to rename your file when saving…
That's it! Enjoy.