What is Google Calendar and how do I access it?
Google Calendar is a web time management system that comes with your Google account (your work email). It works as a standalone calendar that syncs with your email address and allows you to access, add, or remove events from any device you're logged into.
Assuming you're logged into Google Chrome, Google Drive, or any other Google account, your calendar can be accessed by clicking the "waffle" and selecting "Calendar"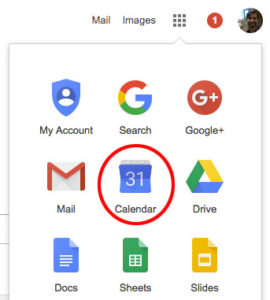 What makes Google Calendar so special?
The biggest advantage to using Google Calendar is the syncing across multiple devices (such as a smartphone and your computer) and the ability to share events with others. You can use Google Calendar to manage other coworkers schedules as well, granted they've given you access. This sharing feature is particularly useful when you need to quickly toggle on/off the staff schedule or a coworkers calendar to find an open time for an event. As a bonus to our Google Apps for Education account, we have the perk of being able to schedule appointment slots.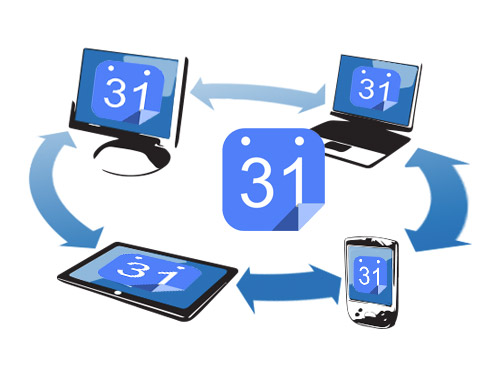 Google Calendar Views
The animated gif below illustrates the multiple views in Google Calendar. Watch as I scroll through and provide descriptions of each view: Day, Week, 4-Day, Month, and Agenda.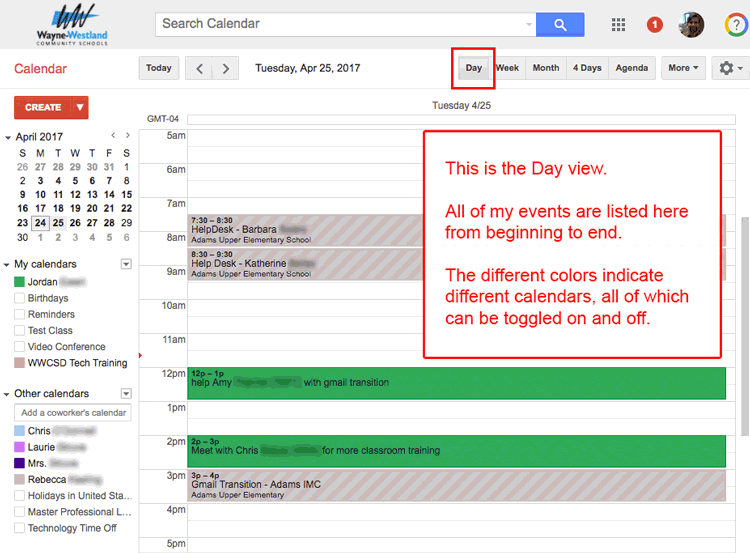 The colors I'm referencing here at the end of this animation will make more sense after you've added a few "My calendars" and "Other calendars" with different colors. Selecting / De-Selecting simply works as a toggle switch for displaying / hiding calendars.
Setting your default calendar view
You may find it useful to have your Calendar display a different default view. If you wanted to see the Agenda view as your default, for this example, you would follow these simple steps: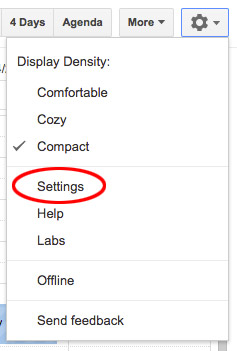 1) Navigate to your cog and find the Settings option

2) In this example I chose Agenda as my new default. Notice how before I set this I had week view as my default.

3) save your settings!
Creating an Event
There are a few ways to create an event.
Option 1
One way is to click the big

button. This gets you to the dialog box where you can add more specific details like times, all day, repeat, where, description, etc. I go more detail into this in the event details overview section. Use this when you need to add a lot of information such as event description, location, and sharing options.
Option 2
Use the quick add option, which can be located by selecting the small 

 next to the 

icon. Use this when you need to make a simple note of something.

This quick add option is great for adding events to your calendar without having to manually pick a time. "Type like you would talk" is the motto here. If I were to schedule an event for a specific day & time, I would type something like "Dinner with Michael at 7pm on April 22nd".
Option 3
The three following animations go over adding events from each calendar view:
Day view: Notice how I select the time slot (it automatically sets each event for an hour) and even select a calendar other than my default.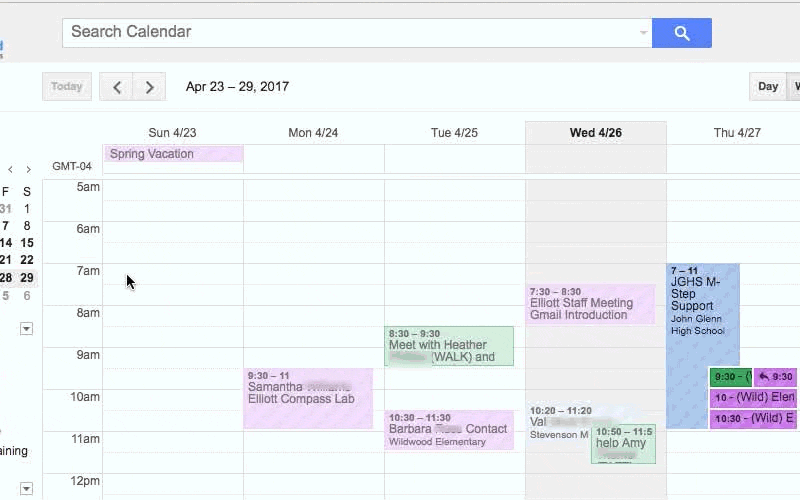 Week view: Works just like day view. Whatever slot you select for that day, it adds it to the one-hour (default) timeframe. You can always change the time afterwards… because taking a shower for an hour is pretty ridiculous.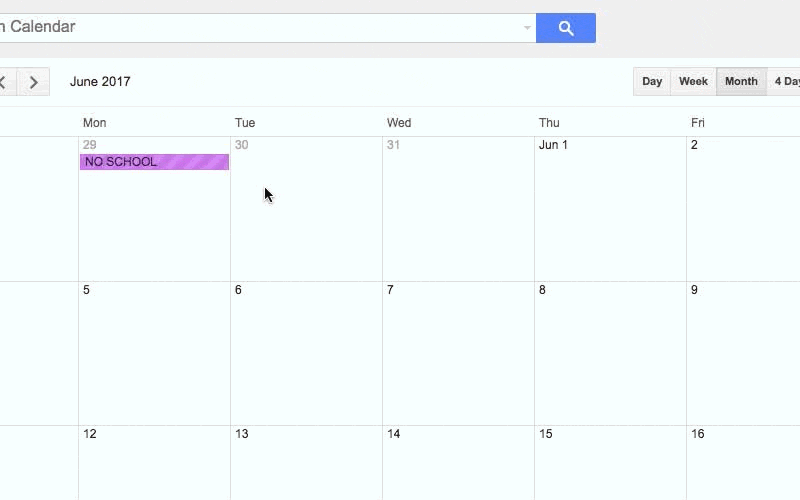 Month view: This option combines the selection of day / week and the quick add function of typing like you speak (discussed in option 2, the quick add). Personally, I really enjoy adding events this way because I can see my entire calendar in a glance and type in natural language.
Use this when you want to be more specific with times. Notice when I selected the day and typed in "at 7:30am" after my description it became scheduled from 7:30 to 8:30.
Want to schedule an event for something other than the default hour length? Use the power of Google and your natural language. To schedule an entire work day, for this example, I could have typed "from 7:30am to 4pm" and it would have made my event that exact duration.
Seeing event details or copying events to your calendar
Editing your event, or any event you have editing rights to is simple. Just click on the event and select "More Details"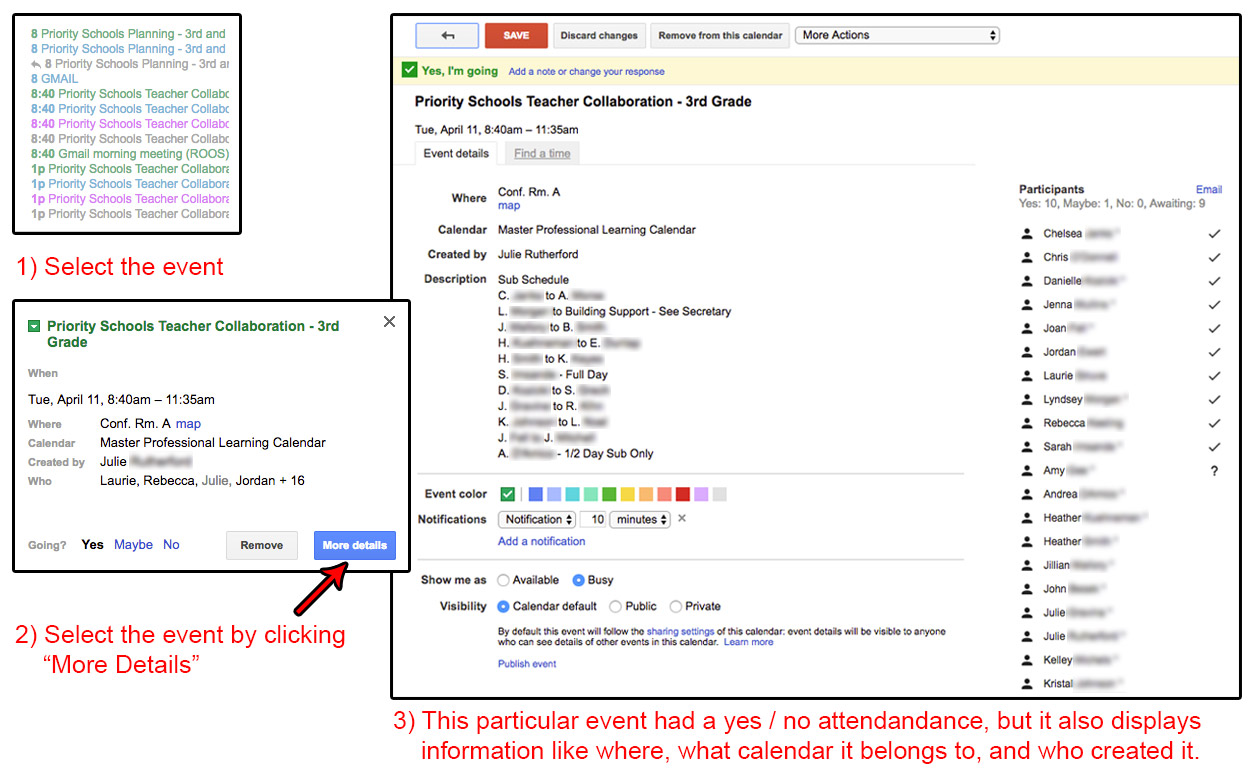 Every now and again you may want to copy someone's calendar events to your own. Below is an animation on how this works.
This animation may take a few seconds to load…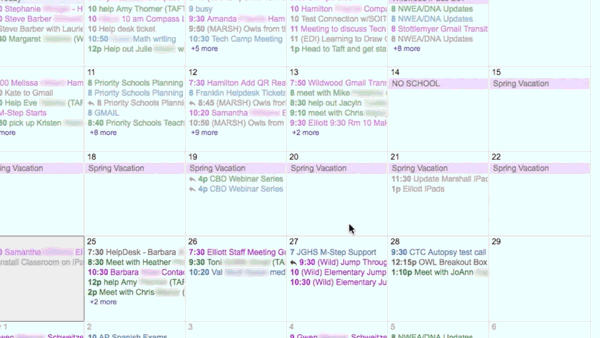 Here are these steps…
1. Click their event > 2. select "Copy to my calendar" > 3. select "Save"
Your event will be copied to your default calendar, but if you look closely at the animation and test this yourself you will find that you can easily change this event to copy to any of your (My) calendars.
Understanding My Calendars & Other Calendars
You may recall from the animated gif on Calendar views (above) there were descriptions of My Calendars and Other Calendars… Allow me to explain these in more detail.

"My Calendars" calendars are populated because you have FULL ACCESS to them. You can add, modify, share, or delete these calendars events. If you see a calendar in this section you did not create, it's because someone gave you full access (the Make changes AND manage sharing option), and you accepted.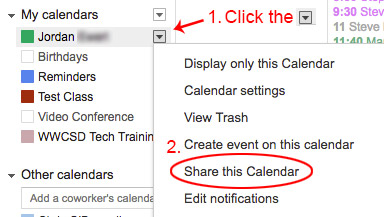 *To share your calendar with someone you want to give full access to, follow these steps below. Note: You can only share calendars located in the "My calendars" section!
---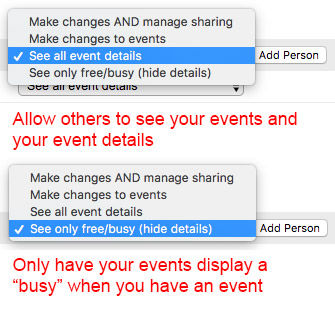 "Other Calendars" are populated because you have SOME ACCESS to them. These calendars were shared with you at some point. Your options for these calendars are typically read only. In other words, you'll only be able to see these events and their event details.
One other way you may find calendars in this section of your calendar is because you requested access. This is what the 

is all about.
---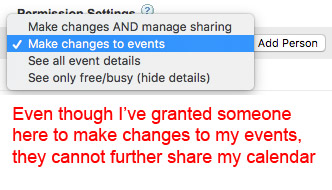 If you've been given access to a calendar with the permission settings "Make changes to events" they will still show up your "Other calendars" section but you will not be able to share these calendars with this option.
*Only the "Make changes AND manage sharing" option allows for further sharing of a calendar.
---

What to choose?
Grant full access (make changes and manage sharing) when you understand your calendar may be passed around with full editing rights, including the creation of new events, modification, and even the deletion of events. Use this option with caution.
Grant one of the other three options if you want to limit who can specifically see the calendar with a specific set of permissions you choose.
For more information on this subject, see Google's official support on sharing permissions.
Creating a new calendar
With your account as-is (I'm assuming) you're set with your one default calendar (your work email) that uses your name. Over time, you may find it useful for creating a new calendar.
For this example we, the technology interventionists, needed to create a shared calendar called "Video Conference" with full permissions. We wanted full permissions because our team needed to create events under this calendar name from our own independent work accounts without logging out and logging into another account.

This is the first part of creating a new calendar. Select the arrow 

 next to "My calendars" and then select Create new calendar.
---

After I selected "Create new calendar" I defined my name and permission settings. Your calendar may require different permission settings! You may also not even want to add another user to your new calendar… Sometimes it might be useful to just have two different calendars for different reasons.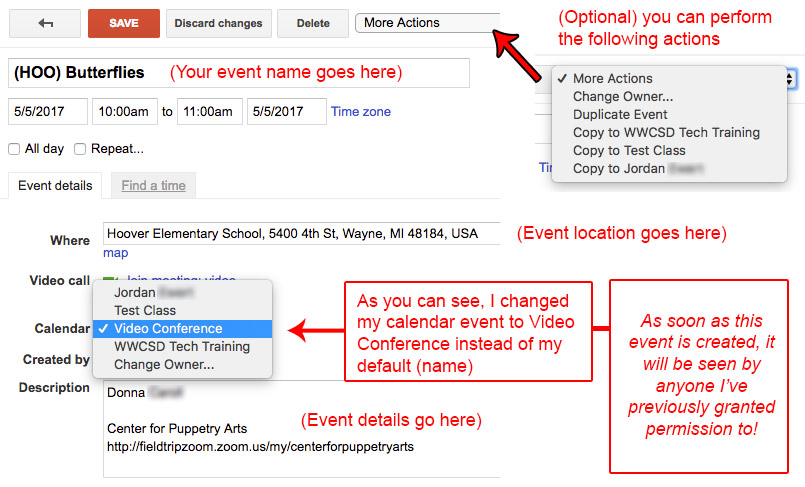 After my new calendar was created, I created a new event as shown here. Notice how I changed my calendar to "Video Conference" in this example.
Changing your Calendar Colors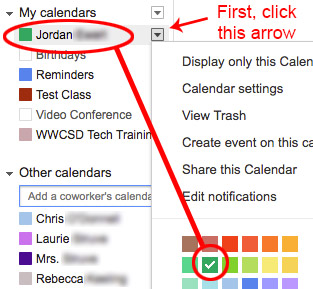 Here is how you change your calendars colors. This works identical in "My calendars" as is does in "Other calendars"
Clicking the color block itself will toggle the calendar on / off from your view. This was previously illustrated above, but here it is in action.

---
Understanding the Event Details Overview
If you've been paying attention much of this has already been covered. For your convenience, here is a good description of what you can do when you create an event using Google Calendar.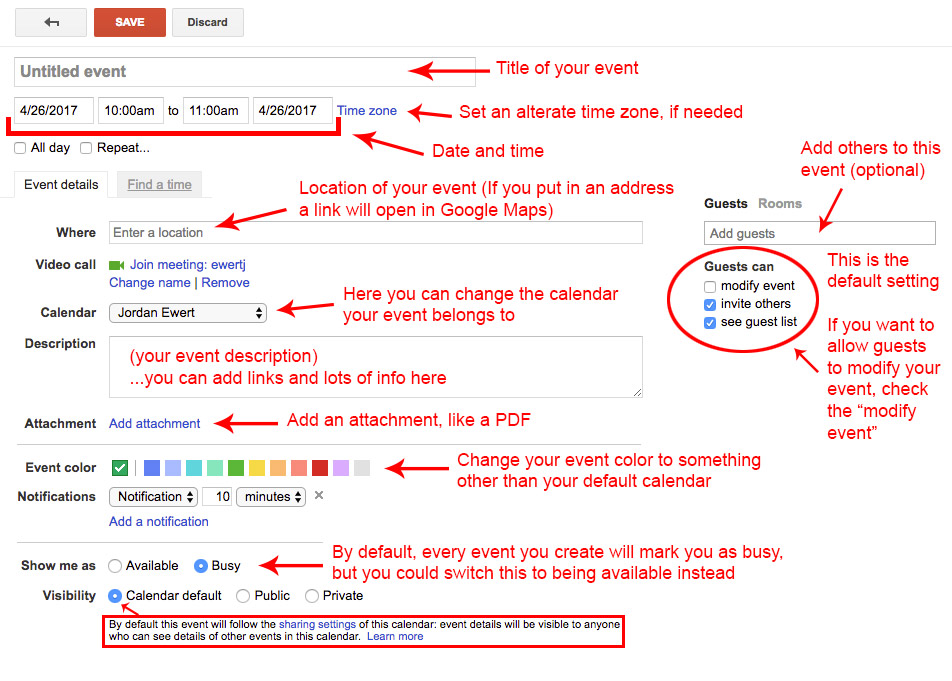 How to repeat an event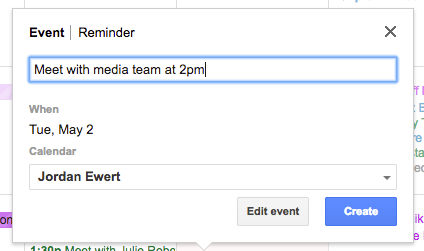 Step 1: Create an event…
---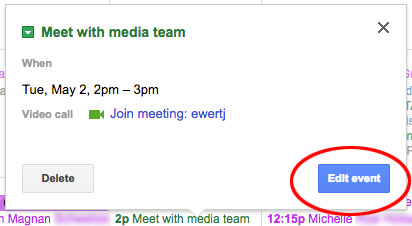 Step 2: Select Edit event as shown here
---

Step 3: Select Repeat
---

Step 4: Change your repeat options. This picture demonstrates some of the options you have…
Creating Appointment Slots
More Tutorials
Text and Images
For those who prefer reading through sections and written text with images, here is a fantastic guide put together by the G Suite Learning Center (Google)
Video Tutorials
For those of you who prefer video tutorials here are some links I've compiled that can take you there.
Bonus Video Resources
What kinds of calendar questions do you have? Feel free to leave them in the comments below or book us for an appointment so we can help you one-on-one.