Coffee Break Bulletin Board is located behind our staff door if you wish to view postings. Coffee Break is a new way to post personal and work-related news for WWCS staff to see. Think of this as a digital bulletin board!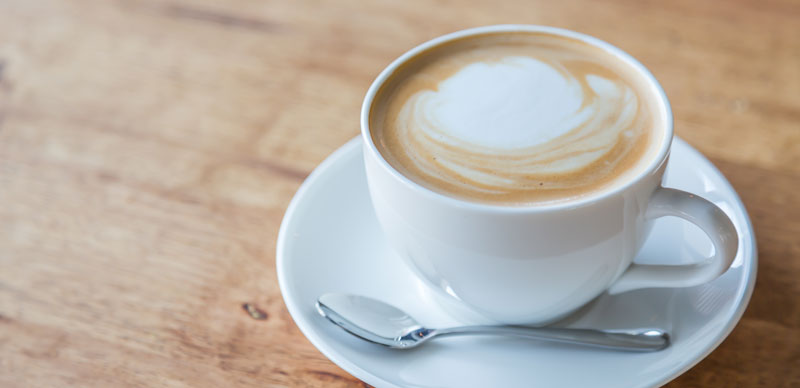 STEP 1: Login to our website

Visit https://www.wwcsd.net/Admin/
 If you need to know your login ID & Password, email
Jordan Ewert
(ewertj@wwcsd.net)
Learn how to reset your password here
STEP 2: Select News > Add News Article
This is the screen you will see after logging into our website.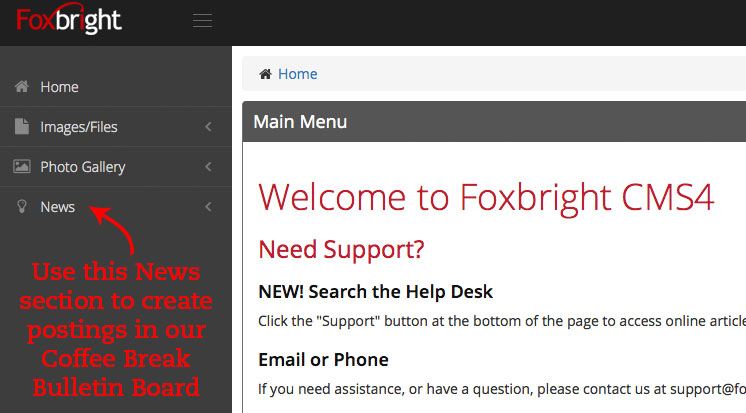 ---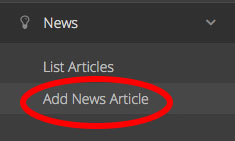 When you select this you'll see the screen in which all your edits will take place. This is also the screen that controls publish and expiration dates, so you can, in fact, publish something before it goes live on the website and have it automatically be removed for you. This works especially well for events.
---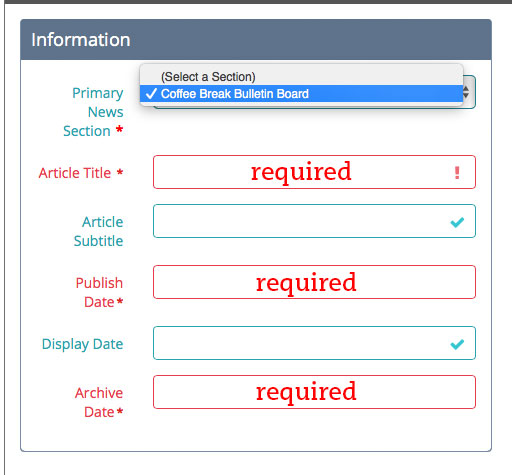 Select Coffee Break Bulletin Board.
All of the required fields are in RED. Use appropriate titles and use sub-titles if you desire.
The publish dates and archive date set when your posting is published and when your posting is archived, or hidden from the website.
---

This is a visual representation of how these fields display on the website.
---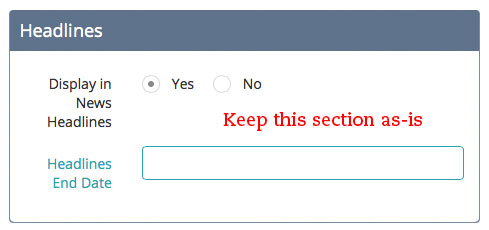 Keep the Headlines section as-is. Use the Display Date from the information section (above) to set an expiration of your post.
---

Adding link attachments is used when linking to additional resources already online (like another website, for example).
You will most likely use the Add (upload) File Attachment option here for attaching additional files like a Word file or PDF.
 You really don't need to worry about this section either, as both linking to attachments online and linking to an uploaded file can all be handled by the content editor itself, most likely in your details section.
STEP 3: Adding / Editing Your Content
This step goes over the basics of formatting your text, inserting links, and adding graphics or images.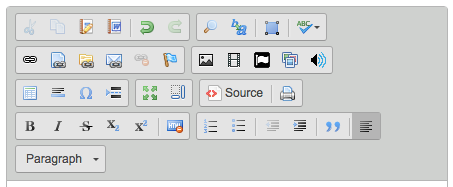 This is what your edit panel will look like for both the Summary and the Details options.
The Summary field allows you to type an article summary, using complete editor functionality. While it is possible to link to pictures, etc., keep in mind that this is a summary of the article and should be brief.
If the Article has a significant amount of content, it should be reserved for the Article Detail area.
---
Linking Content

This animation shows you how to link text or images you've placed in your content panel.
---
Link: will link text and images to a web-page.
Link to File: will link to a file you have uploaded to my files. Read more about this process from how to insert an image (see below).
Link to a Page: will probably not need to be used, since it's used only for linking to internal pages on our website.
Link to Email: will link to an email address.
Unlink: will remove any link you have previously set.
Inserting Images

Select Images button from the toolbar.
Click Browse Images and select Add Image.
Select a Category from the dropdown menu. Click Select New File to find the image from your computer.
Give your image a Name and a brief Description (description is optional).
Click Save to upload the image to your available files on the website.
Click the file that is now in the list of available files to add it to your page.
Make any formatting changes to the image and select OK.
Highlighting the image and clicking on the Image icon will open the image formatting window in case additional adjustments must be made.
Save the block when done finished editing.
Choosing Close will return you to the page tree
Now that you understand how all of these linking icons work, let's take a look at the rest of the icons.

Cut

Copy

Paste as plain text (no formatting)

Paste from Microsoft Word (helps with removing junk characters often imported from word)

Undo

Redo

Search within your text

Replace one word for another

Select ALL your text and images in either summary or details

Spell-Checker

Insert an anchor tag (a link on the same page)

Embed media (YouTube is the best example of this)

Select an Icon (there is a list of pre-downloaded icons you may use)
Insert an "Snippet" (These are very useful when adding a file, such as PDF) because it helps users identify what the file-type is before downloading.


Embed an Audio track (you need to upload an audio file for this to work)

Insert a Table

Insert a Horizontal Line

Insert a Special Character

Insert a Line-Break for printing

Edit in a Full-Screen window

Both Show Blocks and View Source are useful if you want to see your content structure, but otherwise not needed
Prints the screen you're editing

These are your STANDARD FORMATTING options. Note the S for Strikethrough text

Insert Numbered and Bulleted lists

Remove all HTML formatting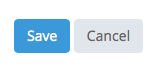 Finally, when you're all set and ready to post. Scroll down to the bottom of the page and click Save.
Reset your Password
You can reset your password after you login:
Navigate to your username in the upper-right

Update your password to something secure. We recommend at least 8 characters with an upper-case letter and number or symbol.

Click the save button to be taken back to main editing page.