Most of the time the Instructional Technology team tries to offer different ways to integrate technology in the classroom. Recently we were asked to expand on another topic: Personal technology in the district.
When we talk about personal technology, it is common to think of our own phone, tablet or laptop (for example) instead of the district provided workstations. Sometimes there are individuals that choose to "customize" their workstations in a manner that has not been district approved. In an effort to clear up any misconceptions, a set of guidelines were developed (and will be updated as needed) to resolve most questions regarding what personal technologies are permissible within the district.
Per the Technology Department:
Summary of WWCSD Personal Technology Guidelines
Please know that if you choose to bring personal technology into the classroom, the Technology Department cannot install or support its use.
Accepted Items:
Wireless Mouse/Keyboards
USB Thumb (Flash) Drives
Personal devices connected to the Staff WiFi (ie phone, tablet, etc)
Prohibited Items:
Wired or Wireless routers/hubs/splitters

Personal Devices plugged directly into the network via cables/jacks

Unplugging district devices connected to the network is prohibited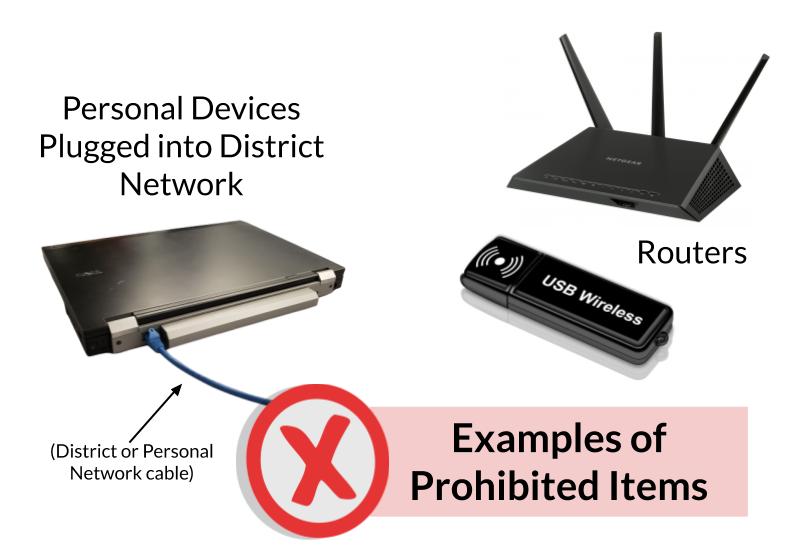 Prohibited items have the potential to allow malware and viruses to infiltrate the entire district network putting productivity, security, and sensitive personnel and student information at risk.
If you have questions, please contact the Technology Department before making any changes. We will be better able to advise you or see if there is a better solution available.
(Note: You must be signed into your district account to view. It is also located on the WWCSD website behind the Staff Door under Technology.)