Enhancing Instruction Topics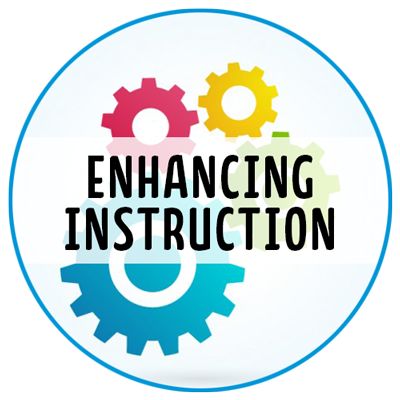 Screencasting:
What is this?
A screencast is a digital video recording that captures actions taking place on a computer display.
How can I integrate it into my class?
Screencasts can be used for demonstrating how to use specific software, website features, reading a story, giving directions or narrating a presentation.
Multimedia for iPads:
What is this?
These are the numerous different apps for iPads that integrate video, pictures and/or text in for the user.
How can I integrate this into my class?
iPads offer the most maneuverability to allow the students to get creative. There are many multimedia tools that can be added to the classroom to enhance instruction.
Augmented Reality:
What is this?
Augmented Reality (AR) is the process of layering real-time information over real world environments. Virtual Reality (VR) is completely immersive and places the viewer in an alternate reality
How can I integrate it into my class?
Both of these technologies require active participation by the users. AR actually requires walking and moving in and out of real spaces while VR uses head tracking (and the optional controllers) to interact.
Podcasts:
What is this?
A podcast is a digital recording or a radio broadcast or similar program that is available on the internet or can be downloaded to a personal audio player.
How can I integrate it into my class?
Students can listen to podcasts on a variety of educational topics  as well as create podcasts that correlate with their curriculum. Students can record an audio of a debate create a podcast.
Smartboard/Smart, Notebooks & Tools:
What is this?
A Smartboard is the interactive board that works with your projector and hub in your classroom. Smart Notebook is the software that allows you to create activities to use with students on your Smartboard. The Smart notebook is loaded on your hub which is usually located behind your Smartboard.
How can I integrate it into my class?
You can use your Smartboard to display anything that is web-based such as a website or video. You can use your Smart Notebook software to create interactive activities or go to exchange.smarttech.com/ to search for activities that other teachers have created.
Graphic Annotations for video, pictures and text:
What is this?
Graphic annotations on top of videos help enrich experience by adding information, interactivity and engagement to viewers. In it's simplest form, annotations can act as a text-version of a video transcript. In other forms, annotations can be used in key moments to offer additional captions or speech bubbles. Annotations on pictures can act as an image description and go into more detail what the image is about, similar to an alt-tag in HTML that can "read" back an image to someone with impaired vision.
How can I integrate it into my class?
Adding proper video and image annotations can be very useful to understand, both for the case of those who have difficulty seeing correctly and for those who want to see a deeper level of what the video or photo is representing. Developing proper understanding in annotations will help students and users get an enriched experience overall.
Teacher Webpages:
What is this?
Teacher webpages can share information about the teacher and the class. The district site uses Foxbright as our CMS (content management system). Foxbright sites can be linked to the district webpage.
How can I integrate it into my class?
Web pages are created by you, the teacher, as a way of making classroom information available outside of the classroom. You can also use web pages for posting links and other resources.