Showcasing Student Work Topics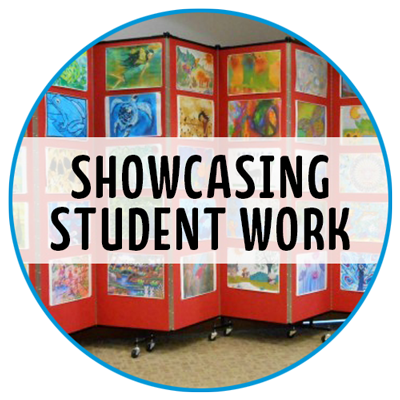 Hyperdocs
What is this?
HyperDocs utilize instructions, web links, graphics, organizers, and other tools to help students to complete their tasks. An example of a HyperDoc platform is Google Docs, which can build a collaborative experience between students in small or large groups.
How can I integrate this into my class?
HyperDocs can be used in class to help teachers balance between instruction and discussion. They are most useful in helping teachers "flip" classwork from pencil and paper to online.
Seesaw student learning portfolio
What is this?
Seesaw is a student driven digital learning portfolio that allows students of any age to independently document what they are learning at school and share it with their teachers, parents, and classmates.
How can I integrate this into my class?
Teachers can use SeeSaw to have students capture their best work or demonstrate their learning by using the camera, web link, drawing, writing, video, and blogging tools that are integrated into the program.
Student Blogging
What is this?
In it's best use, student blogging is about creating connections with other people around the world, where they can showcase themselves and spark a conversation. The transparency of blogging allows students to really think about their online behavior and what they post. In essence, student blogging can be used as a useful tool for understanding digital citizenship.
How can I integrate this into my class?
Let the students develop as bloggers, celebrate their successes, and map their connections. Make it an integral part of your classroom and watch it become one. Blogging is not just about writing, it is about bringing the world and making it a little bit smaller.
Infographics
What is this?
A visual image such as a chart or diagram used to represent information or data. Infographics can help simplify a complicated subject or turn an otherwise boring subject into something easy to fully understand. In short, infographics translate a lot of information into a visual representation that's much more engaging.
How can I integrate this into my class?
Use different elements like graphs, pictures, diagrams, narratives, timelines, and checklists to help your students break down complex ideas into one visual representation they can better absorb.
Video Story Problems
What is this?
Students can create a video story problem using a variety of different tools available on the Chromebook, iPad or EdRedi devices. Students create a math problem using graphics and audio that can be transformed into a video.
How can I integrate this into my class?
Students can create a math story problem that correlates with classroom instruction.
Students can also share their story problems with classmates.
Podcasts
What is this?
A podcast is a digital recording or a radio broadcast or similar program that is available on the internet or can be downloaded to a personal audio player.
How can I integrate this into my class?
Students can listen to podcasts on a variety of educational topics  as well as create podcasts that correlate with their curriculum. Students can record an audio of a debate create a podcast.
Google Cast for Education
What is this?
This allows teachers to cast a student Chromebook onto a Smartboard or other computer.
How can I integrate this into my class?
Teachers can showcase a student's work by casting their screen on another computer or  projection device to share with the rest of the class.