The district has provided access for staff to Office 365. You can use this cloud-based product to create new Office files as well as upload and open files made from previous Office versions. In order to open and edit already created files, there are several steps that must be completed.
Sign in to your Office 365 account at

https://www.office.com/

using your district credentials (ex: your-email @ wwcsd.net)
After logging in to the site you will be presented with a number of Apps choices. Not all Apps are useable and/or supported by the district. (Outlook and Calendar for example). Files can only be accessed once they have been uploaded into OneDrive (Microsoft's Cloud Storage application). If you are uploading a single file and it is a Microsoft file you can click on "Upload and open".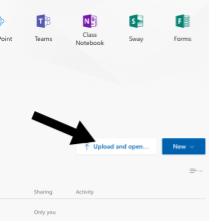 Files that are not Microsoft, or to upload multiple files or folders, you will need to go to the OneDrive app.
There are two options to add files or folders to OneDrive. The first option is to click on the Upload button at the top of the page. You can also drag files from your Documents or Network drive folders directly onto the page where the list of files is located (highlighted area).
Once files have been uploaded to OneDrive, Microsoft files can be opened. If the file type is an older version that does not end in "x" (.docx, .xlsx, etc.) the file will need to be converted to the current Microsoft version.
After opening a file that is in an older Microsoft format, you will only have viewing abilities. You will need to click on Edit Document in the upper right and choose "Edit in Browser". The "Edit in Word" option will try to download and open the file with the desktop application. Because the desktop application is no longer available, your computer will try to find the next best thing which is probably the "Notepad" application.
Some Things to Note:
Students do not currently have access to Office 365. If you are intending to share files with your students you will need to upload them into Google (and possibly convert them.)

Office 365 is a limited online editing platform. Therefore not all of the features of the desktop program may be available.