Digital Breakouts (similar to Digital Escape Rooms) challenge students to "break out" while working with content. Digital Breakouts are composed of digital based clues that players will find and record on an answer sheet. Players can work individually or in small groups. Clues can be in a dedicated location (such as a website) or even in a document with links for students to click. Clues can be in a sequence or "Free flow" (not solved in a particular order). The possibilities are endless! (Read more about Breakouts, Digital Breakouts, and Creating Your Own Breakouts)
Why try a Digital Breakout?
The entire game is online
Games can be played individually or in small groups (2-4 students)
For the Games Listed Below:

The games listed below are contained within a unique Google Site

Links to other clues are generally marked
Everything is self-contained; no need to search the web for answers

Answers are submitted via Google Form

Forms cannot be submitted without correct answers
Hints given if answers are not correct
If you want to try one of the Digital Breakouts listed below, follow these directions:
Choose the breakout and click the link.
Send the students the link (Suggestions: have them type it into their browser or send it via Google Classroom)
There is a form on the home page. Since students are clicking around the page to discover the "clues" it is suggested that they click the upper right corner of the form to open it in a new window. (Otherwise there answers may disappear as they click around the page.)
Students will get a link proving they "broke out" at the end of the game.
Digital Breakout Games to Try:
Oscar is a third grade student that loves exploring the state of Michigan. He travels with his family often (and collects postcards along the way) but he has locked his family's tickets to their next adventure away! Can you help Oscar retrieve his family's tickets so they can continue to Map the Mitten?
Subject: Michigan Geography, Suggested Grades: 3rd-5th
Can you prove you know piles about penguins? Learn a little about penguins (and find a picture of the little penguin!) as you explore these waddling, water-loving birds.
Subject: Penguins (Animal adaptations, habitat), Suggested Grades: 2nd-4th
Dr. Igneous Mesozoic has a new dino discovery but has locked it away and cannot remember his codes to retrieve it! Learn about dinosaurs, the history of major dino discoveries, and paleontology as you hunt for clues. Can you help Dr. Igneous Mesozoic find his discovery or will it remain stuck in the Jurassic?
Subject: Paleontology, Suggested Grades: 3rd-5th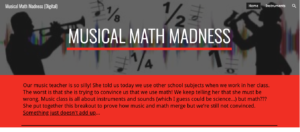 Our music teacher is so silly! She told us today we use other school subjects when we are in her class. The worst is that she is trying to convince us that we use math! We keep telling her that she must be wrong. Music class is all about instruments and sounds (which I guess could be science…) but math??? She put together this breakout to prove how music and math merge but we're still not convinced. Something just doesn't add up…
Subject: Fractions (Adding + Subtracting Different Denominators) &Music, Suggested Grades: 3rd-5th
We will add more games as they are made available!