Digital Breakouts (think Digital Escape Rooms) challenge students to "break out" while working with content. Digital Breakouts are composed of digital based clues that players will find and record on an answer sheet. Players can work individually or in small groups. Clues can be in a dedicated location (such as a website) or even in a document with links for students to click. Clues can be in a sequence or "free flow" (not solved in a particular order). The possibilities are endless! (Read more to learn about getting started with Breakouts, Digital Breakouts, and Creating Your Own Breakouts, or view our Breakout Games – Clue Templates if you are ready to start creating your own)
Why try a Digital Breakout?
The entire game is online
Games can be played individually or in small groups (2-4 students)
For the Games Listed Below:

The games listed below are contained within a unique Google Site

Links to other clues are generally marked
Everything is self-contained; no need to search the web for answers

Answers are submitted via Google Form

Forms cannot be submitted without correct answers
Hints given if answers are not correct
To use one of the Digital Breakouts below:
Choose the breakout and click the link.
Send the students the link (via Google Classroom or other method)
There is a form on the home page. Since students are clicking around the page to discover the "clues" it is suggested that they click the upper right corner of the form to open it in a new window. (Otherwise there answers may disappear as they click around the page.)
Students will get a link proving they "broke out" at the end of the game.
WWCSD Digital Breakout Games to Try:
Note: New Games may be available to WWCSD only.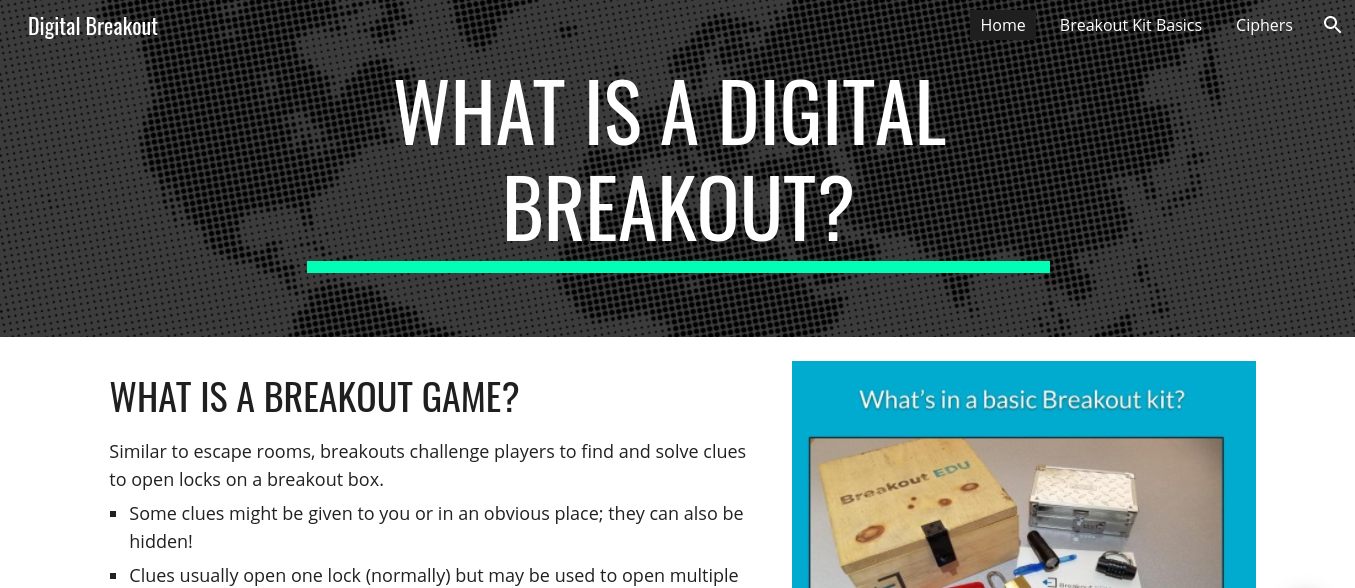 It's a digital breakout – that teaches you how to play a digital breakout! If you are new to playing any of the games below, this is a great game to start. Clues will include a basic cipher (code), identifying patterns, and a few addition/subtraction problems (1 tens place problem). As with all of these site breakouts, the answers are on the site (no need to search Google!) The biggest hint is to read the information – generally it gives a hint!
Subject: Digital Breakouts; Suggested Grades: First Time players (Teachers and students; younger players may need assistance)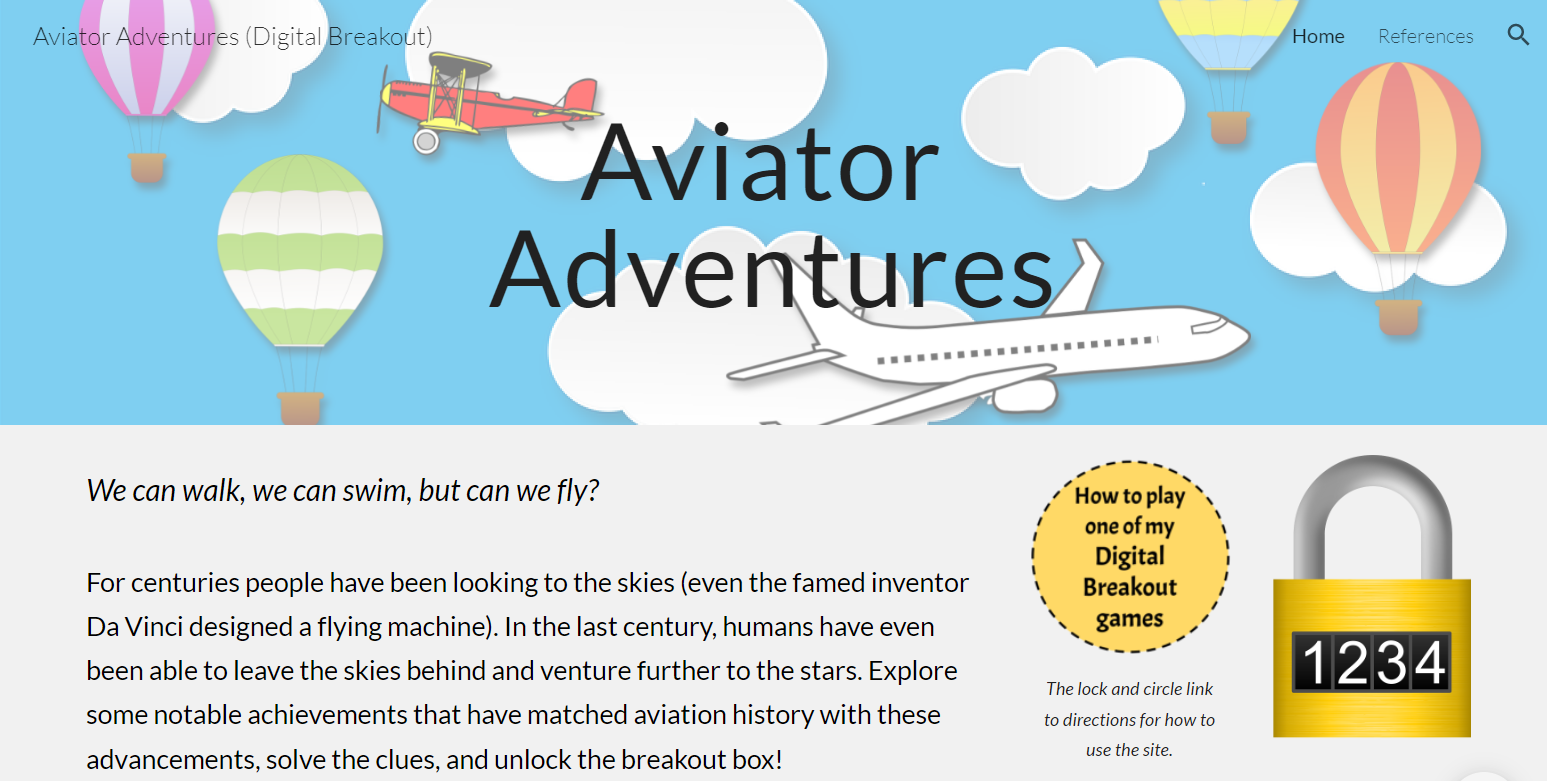 ***This is the Digital version of the game played at the 5th grade Camp Experience***
We can walk, we can swim, but can we fly?
For centuries people have been looking to the skies (even the famed inventor Da Vinci designed a flying machine). In the last century, humans have even been able to leave the skies behind and venture further to the stars. Explore some notable achievements that have matched aviation history with these advancements, solve the clues, and unlock the breakout box!
Subjects: Aviation, Forces, Timelines; Suggested Grades: 5+

UH OH! – Your district is getting ready to debut a brand new STEM lab. The only problem is – the keys to unlock the lab were locked in the breakout box by accident! Deliveries are coming later to drop off all the new equipment and if they cannot get in they will be returned to sender. (Yikes!) Can you help solve the clues to open the breakout box, retrieve the keys, and resolve this STEM Lab Snafu?
Subject: STEM (Science, Technology, Engineering, & Math);
Suggested Grades: 3rd+ 
Code Bugs ***NEW 2022***
Did you see something crawling??? We've been practicing coding in class. So far we have learned about sequencing, algorithms, and programming. Last week we started creating our own programs but when we showed up for class today – there were bugs everywhere! (Okay, not actual bugs… but our programs started looking a little weird.) Can you help us "squash" these bugs?
This breakout is different than the other digital breakouts on this page because it has multiple versions. The versions all look similar but have different locks and clues.  I recommend choosing which version to play based on the players' coding knowledge and/or math skills (see notes).
Subject: Coding, Math (Sequencing/patterns); Suggested Grades: K-1, 2-3, 4-5, 6+

Mr Paul owns Paul's Produce – a place where local farmers can sell their fruits and vegetables to everyone in their small town. Mr. Paul got to his produce stand with a special surprise for his customers of his favorite fruit – sun ripened watermelon – when he accidently locked his keys to the watermelon crate in the Breakout Box! Can you help Mr. Paul unlock the Breakout Box so that he can get his keys back and give each customer a free summertime treat?
Subject: Math (Addition/Subtraction) & Money; Suggested Grades: 4th+
Oscar is a third grade student that loves exploring the state of Michigan. He travels with his family often (and collects postcards along the way) but he has locked his family's tickets to their next adventure away! Can you help Oscar retrieve his family's tickets so they can continue to Map the Mitten?
Subject: Michigan Geography; Suggested Grades: 3rd+

Can you prove you know piles about penguins? Learn a little about penguins (and find a picture of the little penguin!) as you explore these waddling, water-loving birds.
Subject: Penguins (Animal adaptations, habitat); Suggested Grades: 2nd+
Dr. Igneous Mesozoic has a new dino discovery but has locked it away and cannot remember his codes to retrieve it! Learn about dinosaurs, the history of major dino discoveries, and paleontology as you hunt for clues. Can you help Dr. Igneous Mesozoic find his discovery or will it remain stuck in the Jurassic?
Subject: Paleontology; Suggested Grades: 3rd+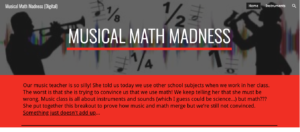 Our music teacher is so silly! She told us today we use other school subjects when we are in her class. The worst is that she is trying to convince us that we use math! We keep telling her that she must be wrong. Music class is all about instruments and sounds (which I guess could be science…) but math??? She put together this breakout to prove how music and math merge but we're still not convinced. Something just doesn't add up…
Subject: Fractions (Adding + Subtracting Different Denominators) & Music; Suggested Grades: 4th+
Wolfie is a very adventurous little wolf! While he likes visiting with the students at his school, he also loves to explore new places. He usually tells his friend, Ms Swanson, where he going, but this time he said it was a surprise! Can you look at the clues hidden on this page to help Ms. Swanson figure out where he went this time?
Subject: US Geography; Suggested Grades: 4th+

Citing sources and compiling resources can be tedious – but it completely necessary when writing an informed paper. Using scholarly resources to is a way to support to your writing. There are different styles of citations based on the writing, but they all help avoid plagiarism (ie taking credit for someone else's work). Use the clues to prove your knowledge of the APA (7th edition) citation style.
Subject: Writing (citation style); Suggested Grades: 8+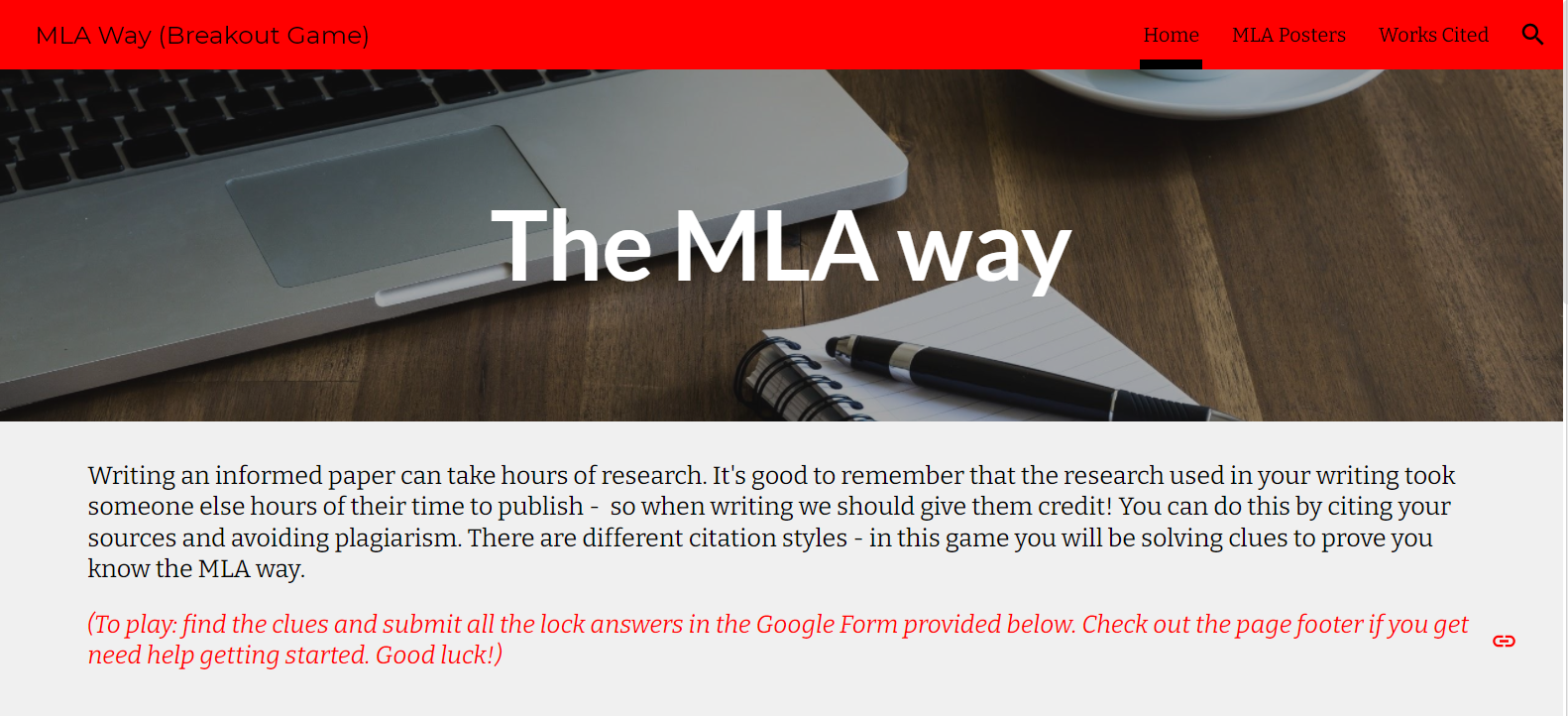 Writing an informed paper can take hours of research. It's good to remember that the research used in your writing took someone else hours of their time to publish – so we should give them credit! You can do this by citing your sources and avoiding plagiarism.
Use the clues in this breakout to prove your knowledge of the MLA  citation style.
Subject: Writing (citation style); Suggested Grades: 8+
****************************************************
We will add more games as they are made available!