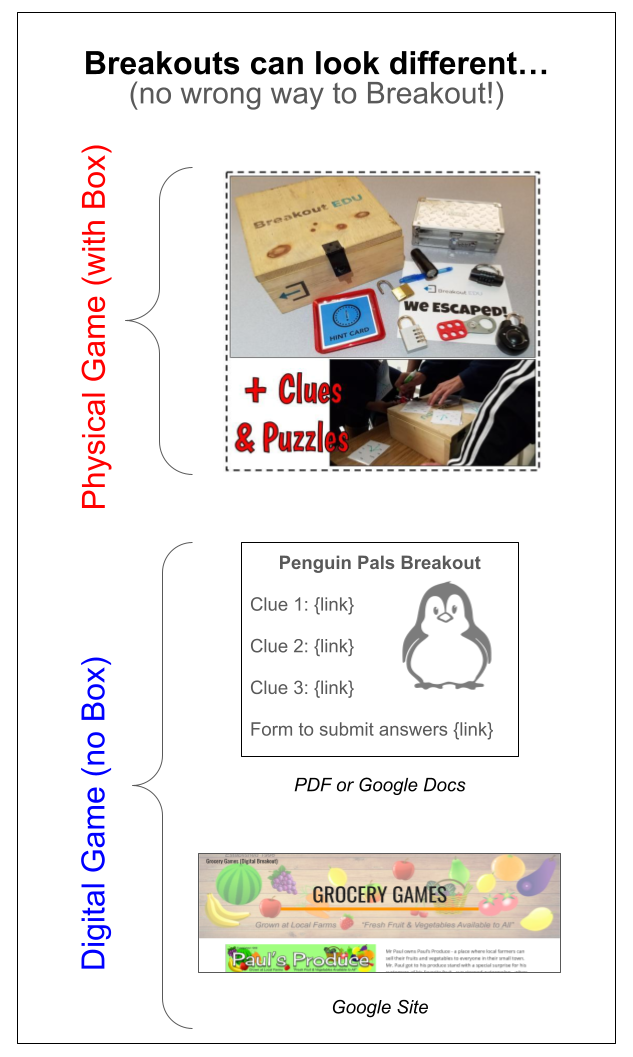 Breakout games are a fun way to engage students to use deductive reasoning, collaboration and creativity while integrating different pieces of curriculum or learning. In general there are two types of breakouts: physical and digital. Physical games involve opening a box with different styles of locks. Digital games involve students solving digital based clues that students will submit (usually digitally through a Google Form or similar) to "unlock" the box. Just as a reminder, each game can be set up differently based depending on the audience. (ie clues given to players or marked for ease of use or "hidden" for players to discover.)
There are many places to find Breakouts to use with students. (As a word of caution, if using games from outside sources make sure your network will allow students to access all the digital components.) If you don't see a game that aligns with your curriculum you can always create your own. (See our previous DIY Breakout Content post for ideas how to create the game.)
Creating your own clues can be daunting, but we have compiled a slide deck of different clue templates and styles to help you get started. Clues can vary in complexity. They can be simple (ie solve a math problem and the solution is the lock code) to the more complex (ie decoding a message using a cipher and then solving the clue, which leads to another clue, etc). It depends on the goal of your game and your audience.
One other things to keep in mind when creating clues is what your answers could be. Usually these options are dictated by the lock type you are using. When creating your game, you can use one, all or a combination of any locks.
Common "locks" found in Breakouts:
(Aka the solution possibilities for your clues)
3 digit lock
4 digit lock
5 letter lock – there are some with interchangeable wheels or fixed wheels

(WWCSD Staff – view my

word combination list

for a fixed wheel lock)

Key lock – For digital games, you may wish to create a "keyword" or something else for them to unlock this lock
Direction lock – there are some with 5 interchangeable wheels similar to a word lock or a center "button" that can hold shorter/longer combinations
Color lock

*

– a lock with different colors (either to put in order or each colored dial has numbers on it). If using in a physical game, you can add a piece of tape on a digit lock and indicate which dial is each color.
Shape lock

*

– generally seen in digital games, players put shapes in order (interchangeable dial locks may have an expansion pack to do this for physical games)
4 letter lock

*

– similar to the 5 letter lock, with less letters
Interchangeable dial lock

*

– as mentioned before allows for players to put in a combination of different letters, numbers, directions, etc (I've seen these used mostly in physical games.)
* = expansion locks; not generally found in a starter kit.
Creating the Clues
Clue creation is only limited by your imagination and your audience. (You may wish to do "easier" or less clues with younger or newer audience. The time limit for the game can also influence what kind of locks you use in the game.) There are also a variety of locks you can use (or adapt depending on if you are playing a physical game).
Some Clue Examples:
Hide words/letters in text for players to uncover (Or even omit them to make a message)
Solve a maze to find some directions.
Create a story made of fake "tweets" for players to put in order.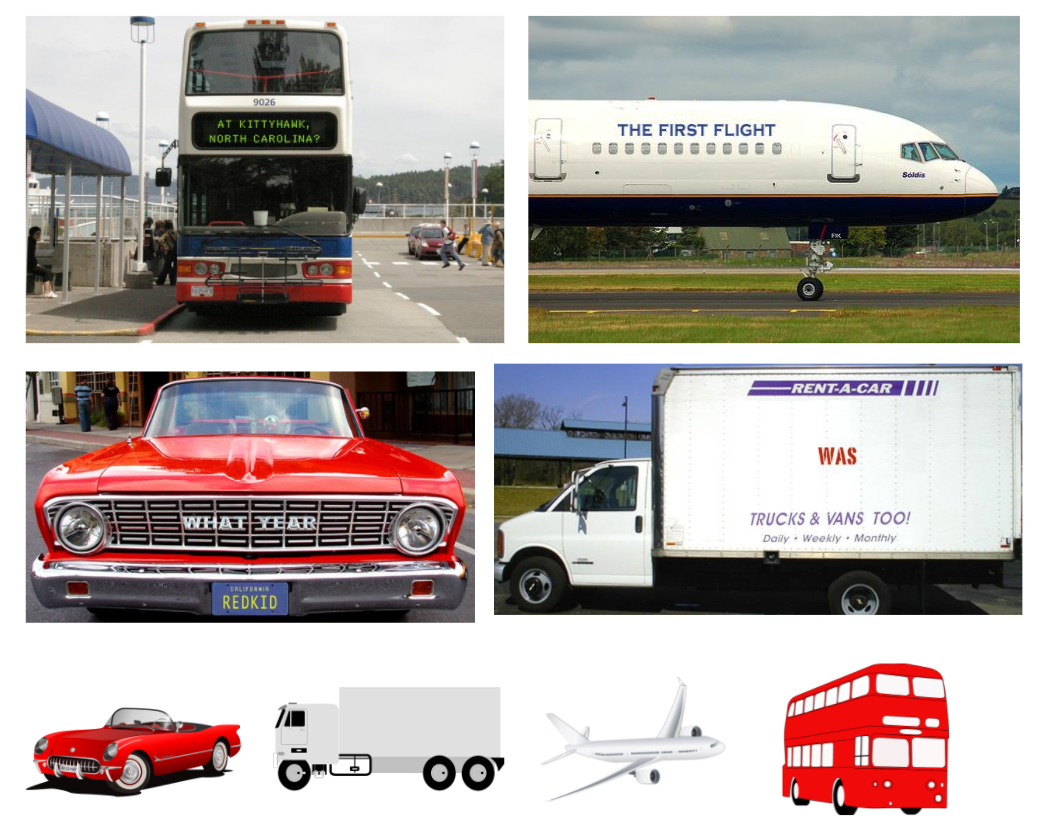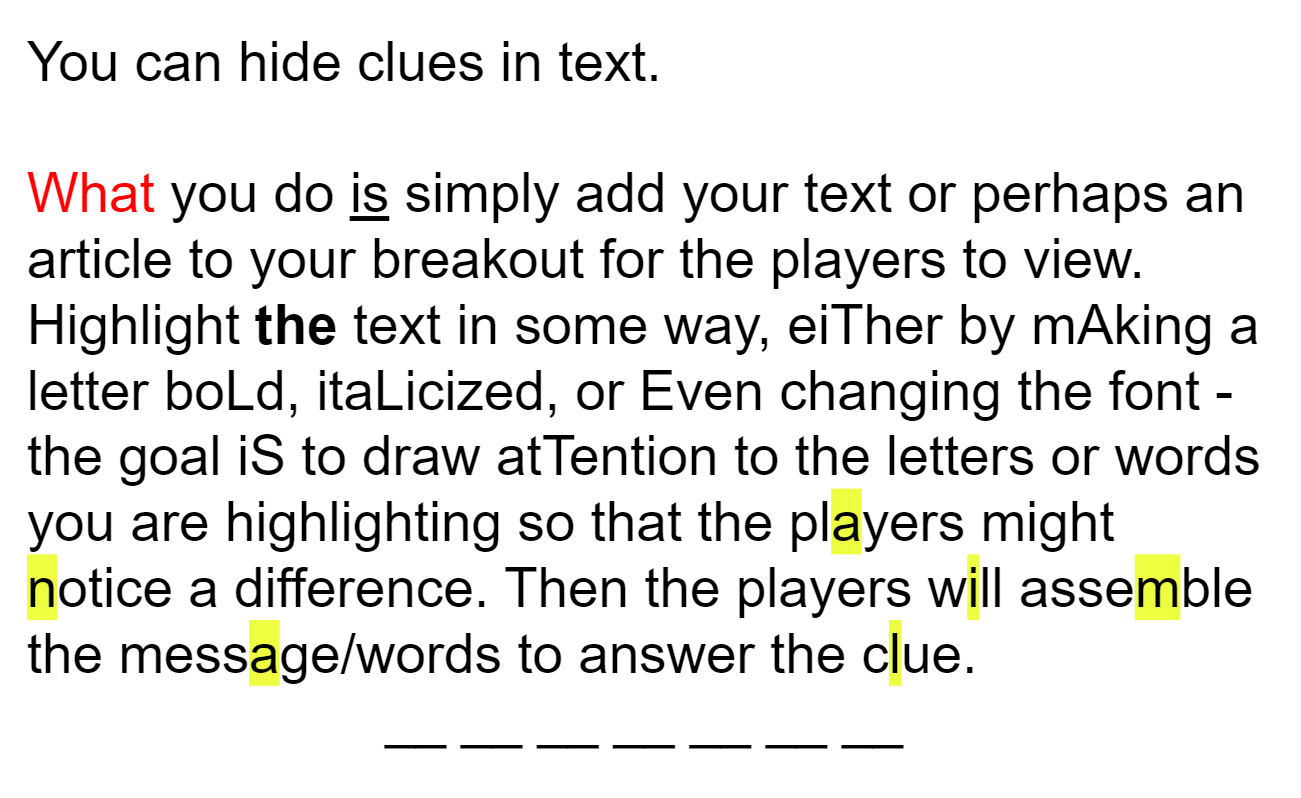 Need more help coming up with ideas?
Check out our Breakout Clue Templates
slide deck with 30+ ideas for making clues.

(Available to district staff)

This year at Summer Tech Camp, I presented on Digital Breakouts. One standout piece of feedback requested a "clue template" guide. The suggestions listed are different options I have found or used personally. Please use the links included at your own risk.