Updated on 12/16/2020 to reflect new login for students.
Quick Index
Getting Started:
What is Compass Learning Odyssey?
Compass Learning (now known as Compass Learning/Odyssey) is a research-based digital curriculum that is available in our district for students in grades K-8. Compass offers students online pathways in reading and math that are prescriptive in nature and correlated to student's NWEA scores.
Some benefits include:
Each student will be assigned different pathways that address the deficiencies identified by their NWEA RIT scores.

Students will experience activities, videos, and quizzes as part of the program.

Teachers have access to student progress reports that inform them on student scores as well as how much time students are spending on various activities.
The reports are a powerful formative assessment tool to assist teachers in monitoring student achievement. In addition, students can also log on at home and work on their assignments.
How do teachers login?
Please view Laurie's Compass Learning Odyssey Quick Notes to see how to create classes, view how to get students started, and learn about the teacher dashboard.
There is a direct link to thelearningodyssey.com in your teacher Clever portal (labeled Compass Teacher login).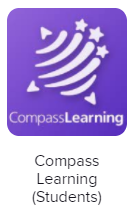 How do the students login?
Students will login via the district Clever portal (clever.com/in/wwcsd) and click on the purple Compass Learning tile. (They do not need to sign in through the website.)
Adding Students to Your Class
When you log-in you will be on your teacher dashboard

Click on

Classes to make sure your class is there. NOTE: If you want to edit your class name etc. click on the box next to your class name and then click on the pencil icon at the far right.

If for any reason you do not see your class go to

new…

on the menu bar at the top and select

class. Select your grade, but leave the subject as "Select a Subject. Click Save.

On the left side of your screen click on

Students.

All the student names in your school will appear. Click on

at the top to sort by grade. Click in the boxes that appear next to your student names to select them.Once you have selected all your students click on Actions

at the menu bar and click

Add to Class
Running Progress Reports
When you log-in you will be on your teacher dashboard.

Click on Reports on the top menu bar

Under the heading

Progress Reports Templates

go to the very last line titled

Default Student Progress Report

If you want a

quick

view of everything your students have completed in the last week click on

Run on the far right. Once the report comes up you can click the pull down menu at the top for some additional options. You can also choose to view as a PDF.

If you want to further customize your report or schedule it to automatically generate every week click on

Settings.

You can leave the details page as is and click on Curricula.

Click on

Curricula

in the same window and select which subjects you want. Leave all grade levels selected. If you leave everything checked it will give you a report on everything the students have completed.

Click on

Assignments

in the same window

. If you want to select all work just continue. If you want to select certain dates or assignments click on the appropriate settings.

Click on

My Classes

if you want to run reports on your whole class. Click on

My Students

if you want to run reports on individual students.

Click on

Schedule and Send

in the same window

Turn the Status to

On and select the start date and decide how frequently it will run. I would suggest running it weekly. Click on Saturday or Sunday so Friday's work will be included in the report. Also, select a stop date. Pick a date at the end of the school year. This way, it will run weekly all year.

On the opposite side of the screen make sure your email address is correct.You will also want to click the PDF File box. Under Message you may want to type a description for your report such as Math or ELA. Click

Save As when done.

Type an appropriate name for you report. You could include the subject(s) and your name. And click

Save

When your report is generated you will be sent an email message. You can access your report from your teacher dashboard by clicking on

Reports

on the top of your teacher dashboard and clicking on

My Progress Reports

under

My Templates

on the left hand side of your screen. You can also click

Run at any time and instantly generate your report as well.