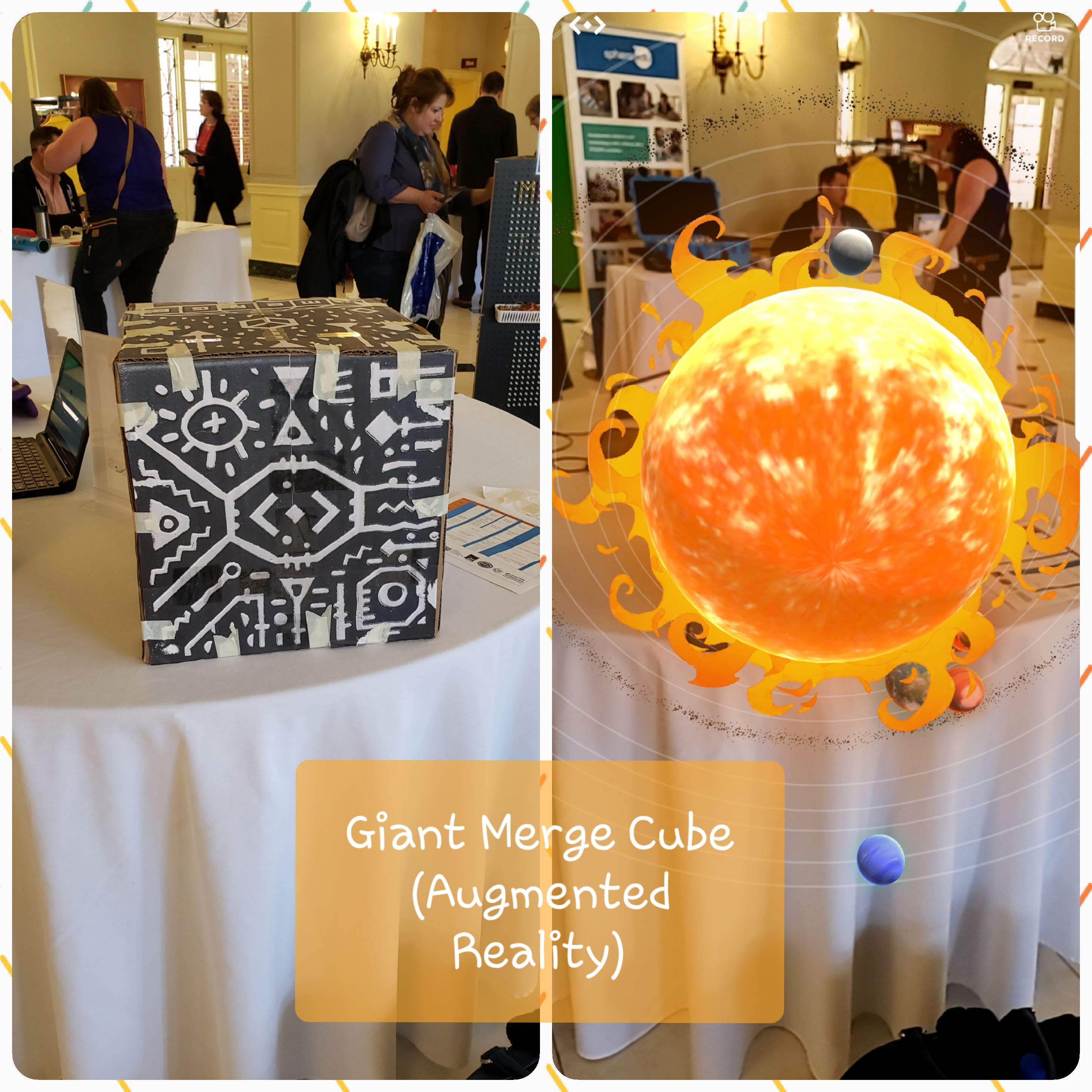 Technology has made it easier to bring objects, locations and topics to students. This can help give them a frame of reference when they don't have experience to draw on. With the evolution of VR and AR we are now able to bring students 3D and immersive examples instead of just traditional 2-dimensional media.
What is VR?
VR stands for Virtual Reality. To experience VR, users generally wear/use a headset and view a 360° spherical image or video. Alternatively you can sometimes view VR using a tablet or device with a gyrosphere (which allows the app to know where the user is looking.)
In the past, since VR can be overwhelming for younger users, we have used iPads to view 360° spherical images and videos. The students were told to think of the iPad as a window or "looking glass" they can move to view the spherical image or video.
What is AR?
AR stands for Augmented Reality. To experience AR, users will use a device that "maps" the area and superimposes a 3D image on top of the surroundings. Users then can take their device and walk around the image to view it at different angles. Since AR uses the camera to overlay the image, users can still see the area around them.
Classroom Technology Integration Ideas:
View a place that would be difficult to visit or describe to students
Have students select VR/AR content and lead the class during a presentation
Use AR to have students investigate an object or concept
How can I experience VR or AR?
The district has a few options available to teachers. Each has pros and cons to their use but if you need assistance determining which might suit your purpose best, please contact us.
Google Expeditions (App):
Moderately immersive with headsets; less immersive with iPads
Contains precreated VR/AR content with guided information/questions
Only the "Guide" needs to log into the app (to lead the expedition)
Users can import their own content created in Google Tour Creator
Works with device/headset combos that can play the app for immersive experience; also works on iPads/tablets as "windows" into the image Google just announced in Summer 2019 that users may be able to view tours using Chromebooks. We are currently looking to see if it will be applicable for use on our district devices.
Learn more about Google Expeditions
ClassVR (Devices and portal)
Moderately immersive; users can view 360º images and videos
All-in-one headsets that connect to a learning portal that can personalize content
Contains both VR and AR content
We currently have a set of 8 headsets which can be directed using content from the ClassVR portal.
HTC Vive (Device)
Highly immersive VR content; users can manipulate and interact with the programs
All-in-one headset with controllers that allows students to "move" within their given environment
Can be projected to allow other non-participants to view user's perspective
Currently we only have one unit and it requires at least 8'x10′ area to utilize properly.
ZSpace machines
Utilizes an attached pen/stylus and glasses to view interactive AR content.
Variety of different programs available
Can also be viewed in 2D
Currently we have 3 different ZSpace laptop machines for use.